North Sea Race 2014
Posted: Saturday, 31st May 2014
Organised by the Royal Ocean Racing Club in association with the Royal Harwich Yacht Club, the East Anglian Offshore Racing Association and the Yacht Club Scheveningen.
A fleet of 52 yachts entered the 180-mile RORC North Sea Race, the fourth race of the RORC Season's Points Championship. Starting from Harwich on the East Coast of England, the line was blessed with a 15 knot easterly wind, providing a true beat to the first turning mark of the course. The breeze was to fade during the race which suited Volvo Ocean 65, Team Brunel. The Dutch team, skippered by Bouwe Bekking, took line honours and the overall win under IRC after time correction. Wouter Hermsen's Sydney GTS 43, Luctor 3 was second overall and winner of IRC One, and Harm Prins Volvo 60, Pleomax, was third and winner of IRC Zero.
Congratulations should also go to the winner of IRC Two, Ard Moerman's Bashford & Howison 36, Ace, and to Paul van der Pol's J/109, Yeti, which won IRC Three.
This is the first RORC race in which the new VOR 65 has competed and it was a great warm up for the Volvo Ocean race, which starts in the autumn, providing an opportunity for Bouwe Bekking to trial his new team and to give his sponsors the sail of their lives.
"It is great to see that the boat is competitive under IRC and that this new team worked well together," commented Team Brunel skipper, Bouwe. "There are lots of things that we look at when we are picking a team, obviously just to be in the selection you have to be a very talented sailor, but the biggest criteria are that everyone clicks together and work as a unit. Of course we work hard but it is important that we have fun together and the North Sea Race was a great opportunity to have our sponsors on board, as well as windsurfing Olympic gold medallist Dorian van Rijsselberghe.
Team Brunel and all the competitors put a lot of effort into taking part in races and the great thing about RORC races is that they are always so well organised, which sometimes people take for granted but it is very important for everyone. As a Dutch boat, the North Sea Race is very important, I think I did my first race in 1983, and the race to Harwich and back to Scheveningen is a very important part of yacht racing in Holland."
The overall winner of the North Sea Race under ORC was Frans Rodenburg's First 40, Elke. Robert Jockin's Dehler 39, Griel, was second and also winner of ORC Two. Anita Bakker's Dehler 35, Gast-Vrij, corrected out to win ORC 3 & 4.
"We have a great team on board Elke that have been together for a couple of years now," commented Frans Rodenburg, skipper of Elke. "The team is very keen and has done a lot of research to work out how to sail the boat as well as possible. At the upwind start, we decided to sail as high as we could, maybe 5 degrees more than normal, with the crew hiking hard because we knew that we needed to get ahead of the boats that rated lower than us. We knew we needed to put a big effort in for that beat, as the competition is very good. After that the wind went very light and we really concentrated on just keeping the boat going. About 25 miles from the finish, the wind was virtually gone for us but the other yachts would come with the breeze. However, we just kept going, even when the wind was just three knots, we were sailing as fast as the wind. After finding out we had won, we cleaned up the boat and celebrated a little, enjoying the full hospitality of Yacht Club Scheveningen."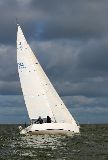 15 teams, all from The Netherlands, raced in the IRC Two-Handed Class and, after a race lasting over a day and a half, the result was decided by just one minute. John Van Veen's J/105, Dream Machine, with Rob Vis as crew, was the winner of the class, beating Chris Revelman & Pascal Bakker's J/122, Junique, into second place. Chris Schram's JPK 10.10, So What, was third.
John sails every evening out of his home port in Enkhuizen, North Holland, and was overjoyed to learn of the win.
"When we finished the race, it was very nice to find out it was so close, we didn't know but what a great feeling!" smiled John Van Veen. "For a Dutchman to win class in the North Sea Race is absolutely fabulous. The race took us over 34 hours and was very tiring as we were constantly changing sails and concentrating on tactics all the time. Two-handed racing in Holland is getting more and more popular. When we started four or five years ago, we often raced with just two or three boats. We have a 50 mile race on Ijsselmeer, and now, this year, we had 70 boats racing two-handed! This is the biggest win ever and we are so happy with the result."
The RORC Season's Points Championship continues next weekend with the De Guingand Bowl Race, starting and finishing in The Solent. The Belgian team racing Azawakh, owned by Vincent Willemart and Eric Van Campenhout, are currently leading the championship with Noel Racine's Foggy Dew in second place and Louis-Marie Dussere's Raging Bee in third.
For full results from the North Sea Race: www.rorc.org
This report can also be viewed at http://www.rorc.org/2014-race-news/rorc-north-sea-race-team-brunel-show-their-ability.html