SPIRIT WINS NORTH SEA RACE
Posted: Monday, 14th May 2018
Paul Scott with a good crew on his Sigma 38 called Spirit has won the RORC North Sea Race in style, this year he was one of 10 East Anglian boats racing for the Charlie Mills memorial trophy. The trophy will be presented at our end of season party on the 3rd November in the WMYC. Well done Paul and to everybody onboard.
ApeX was a close 2nd with just under 4 minutes between them. Again well done to Robert Leggett and everyone who raced.
Paul Wood, Chairman EAORA
full report from RORC/yachts and yachting
Teams representing Belgium, Denmark, France, Great Britain and the Netherlands entered the 2018 North Sea Race, which was won overall, after IRC time correction, by the corinthian team racing British Sigma 38 Spirit.
Spirit is skippered by Paul Scott and the team race regularly with the East Anglian Offshore Racing Association. Paul Scott is a member of the RORC, West Mersea YC, and Haven Ports YC.
"Spirit has a great team with a mixed range of experience and abilities. We are passionate about offshore racing, and we have won a few races in the past, but never anything as big as this. We always set out to have fun, and enjoy our sailing, but to say we are happy with this result would be an understatement. A big thank you to the race organisers." commented Paul Scott.
Spirit crew for the 2018 North Sea Race: Paul Scott - Owner and Skipper,Rosemary Nunn, Geoff Lynch, Clive Wintle, David Leech, Patrick Campbell, Ian Burberry, Tony Webb and Jane Davies.
The race was mostly upwind and reaching, with very few teams getting their spinnakers out of the bag." commented RORC Racing Manager, Chris Stone. "Conditions conspired to favour the smaller yachts, as the faster boats did not get the breeze that arrived later in the race. Over the course of the season, favourable conditions will average out through the fleet. Well done to the teams that did well, even when the conditions are right for your team, you still have to put in a top performance to win your class, and have a chance of the overall win."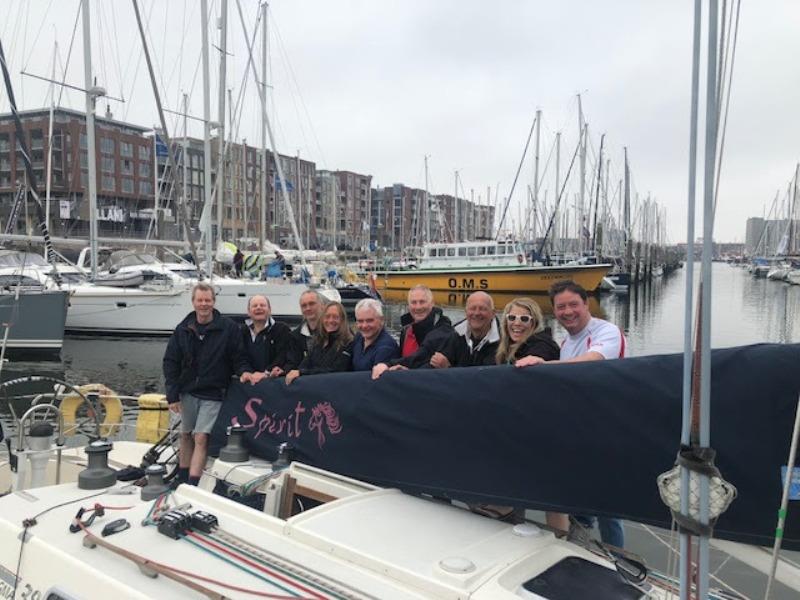 The Spirit Team celebrate at the Yacht Club Scheveningen. - photo © Team Spirit
The top three teams overall, were all racing in IRC Four, Spirit was the winner, second was Robert Leggett's X-332 Ape-x, and third was Michel Dorsman's Dutch X-362 Extra Djinn.
Ker 46 Lady Mariposa, skippered by Daniel Hardy took line honours and the win in IRC Zero. Dutch Ker 46 Van Uden skippered by Rogier Van Overveld was second. In IRC Two, Astrid De Vin's Dutch Grand Soleil 43 Il Corvo, racing Two-Handed was the winner, Chris Schram's Corby 38 Double Edge was second, and Mark Emerson's British A13 Phosphorus II was third. In IRC Two, Michael Mollmann's Danish X37 Hansen was the winner, ahead of Frans & Carla Rodenburg's Dutch First 40 Elke. Roy Heiner's Dutch Maxfun 35 Team Heiner III was third. Willem de Jonge van Ellemeet's Dutch Dufour 40 Flying Dolphin took line honours in IRC Three and the win after time correction. Robert Jockin's Dutch Dehler 39 Griel was second, just ahead of Gabriel Krier's Belgian A35 Amaris 2.
In the IRC Two Handed Class, Richard Palmer's British JPK 10.10 Jangada was the winner, opening up a substantial lead in the class for the RORC Season's Points Championship. Robin Verhoef and John Van Der Starre's Dutch J/122e Ajeto! Was second, and Wim van Slooten's Dutch J/109 Firestorm was third.
"We are very please with our result, as Two-handed racing in Holland has become very popular and very competitive." commented Ajeto!'s Robin Verhoef. "Our J/122e was specially built for Two-handed sailing, and we love to sail that way because we don't need any more crew or all the additional equipment and provisions required when more people are on board. We do have systems designed for two-handed racing, and our preparation is always a big part of producing the best performance."
The RORC Season's Points Championship continues Saturday 26 May, 2018 with the start of the Myth of Malham Race, over the Bank Holiday Weekend, the race is approximately 256 nautical miles from Cowes to the Eddystone Lighthouse, and back for a Solent finish.
For full results of the North Sea Race, and more information about the Royal Ocean Racing Club visit www.rorc.org.